Whittier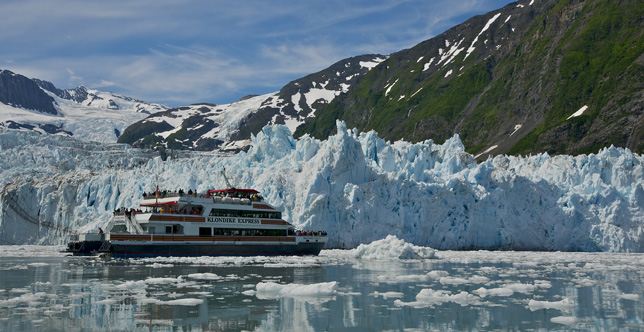 Whittier Alaska
Whittier, located 60 miles southeast of Anchorage, is a small community that was established during World War II due to its ice free port and proximity to Anchorage and the interior of Alaska.  It is now known as the gateway to Prince William Sound.  The town is unique in that you have to travel through a 2 1/2 mile tunnel into Whittier.  This tunnel is shared with the Alaska Railroad, so access is limited.
Visitors to Whittier can enjoy glacier day cruises, kayaking tours and guided fishing trips.  Whittier is also the cruise ship port for Princess Cruises.  Whittier is home to just 200 residents and only one hotel.  Most visitors come to Whittier as a day trip from Anchorage.
The Park Connection motorcoach operates into Whittier on designated cruise ship days as a cruise transfer between Whittier, Anchorage, Talkeetna and Denali. The motorcoach departs the Whittier cruise ship terminal at 9:45 AM and arrives in Anchorage around noon.  The motorcoach drops off at the Anchorage airport and the Dena'ina Civic Center.  Passengers who want to continue on to Talkeetna or Denali can connect with our "Park to Park" service which departs the Dena'ina Civic Center mid-afternoon.
For guests boarding a cruise ship in Whittier, the Park Connection offers an afternoon departure from the Dena'ina Civic Center.  This motorcoach also connects with the Park to Park service coming south from Denali.  One of the unique features of the Park Connection bus line is the ability to travel between Denali and Whittier in the same day. You can get additional information by viewing the individual trips listed at the bottom of this page, or by visiting our schedule and rates pages.
The Alaska Railroad also offers daily service between Anchorage and Whittier.   The rail travels from Anchorage to Whittier in the morning and returns to Anchorage in the evening. If you use the rail service as transportation to or from your cruise ship we recommend taking a day cruise out of Whittier for a close up look at the glaciers and wildlife of Prince William Sound. Remember, you can book your Alaska railroad trips along with the Park Connection Motorcoach using our unique online booking system. We can even help with booking day cruises in Whittier, see this page or give us a call at 800.266.8625.
Park Connection bus tours to Whittier
Park Connection bus tours from Whittier