Denali National Park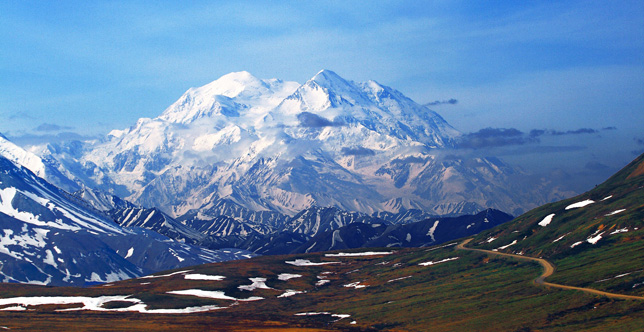 Denali Park Alaska
Denali National Park is located about 230 miles north of Anchorage, and is one of the most popular visitor destinations in Alaska. Denali Park covers six million acres and is home to moose, grizzly bears, wolves, caribou, sheep and Mt. Denali, the tallest mountain in North America.  The wildlife viewing opportunities and a chance to see Mt. Denali draw over 400,000 visitors annually to the park.  During the summer months, Denali becomes a bustling town with many options for lodging, dining and activities.  Outside of mid-May to mid-September, Denali Park has very limited services and even fewer lodging and dining options.
Denali Park hotels are primarily located outside the National Park entrance either in the Denali Canyon or the Denali Park Village area.   There are several remote lodges inside Denali Park in an area called Kantishna, 90 miles deep into the Park.
For the best Denali experience you should plan a minimum of a two-night stay which allows one full day to take a bus tour into the park. The Denali area can be further explored by hiking, flightseeing, an ATV tour or rafting.  If you are interested in dog sledding, Denali is home to Iditarod Champion Jeff King and his kennel operates daily tours.
The Park Connection bus line operates two trips per day between Anchorage and Denali.
The "Denali Express" operates northbound from Anchorage in the morning and southbound from Denali to Anchorage in the afternoon, with stops in Talkeetna in both directions. The Denali Express is perfect for visitors connecting to Denali backcountry lodges.
The "Park to Park" service offers transportation between Denali and Seward, with stops in the town of Talkeetna and Anchorage en route.  The southbound Park to Park motorcoach departs Denali in the morning, arrives in Anchorage about mid-day and arrives in Seward by early evening.  This route offers you great flexibility…  you can take the coach to Anchorage to catch a flight home, or you can travel all the way to Seward in one day to board a cruise ship or to continue your Alaska exploration. The northbound Park to Park motorcoach departs Seward in the morning and arrives in Denali mid-evening.  On designated cruise ship days, transportation between Denali and Whittier is also available. If you would like to travel north from Denali to Fairbanks you have the option of traveling by train or by van, as the Park Connection Motorcoach does not go to Fairbanks. You can get additional information by viewing the individual trips listed at the bottom of this page, or by visiting our schedule and rates pages.
The Alaska Railroad offers daily service southbound from Fairbanks to Denali en route to Anchorage and northbound from Anchorage to Denali en route to Fairbanks.  Most folks who plan to visit both Denali Park and Seward choose to use a combination of bus and rail travel.  The Park Connection's "Park to Park" service is the only scheduled transportation link allowing travel between Seward and Denali in one day.
Need Help?
We are happy to help with where to stay and what to do so that you can have the best Denali experience possible.  We can help you create an itinerary that combines motorcoach and rail transportation.  Remember, you can book your Alaska railroad trips AND the Park Connection Motorcoach using our unique online booking system.
Park Connection bus tours to Denali Park
Park Connection bus tours from Denali Park