Anchorage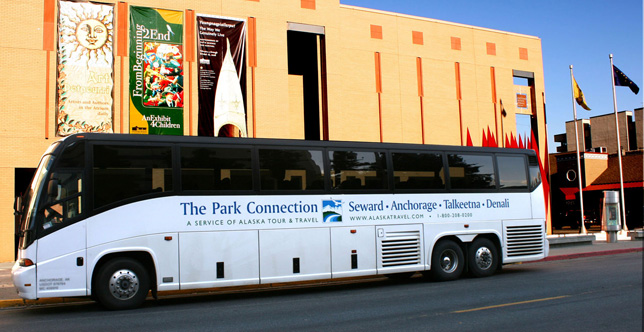 Anchorage Alaska
Anchorage is Alaska's largest city, and serves as the starting point for most Alaskan vacations.  Anchorage International Airport is the state's busiest airport and offers a wide variety of airlines and flights in and out of Alaska.  Whether you intend to travel south to Whittier or Seward to board a cruise ship, or north to visit Denali National Park, your first stop will likely be Anchorage.
Home to about 40% of Alaska's population, Anchorage offers great shopping, hotels and restaurants, and shows off the beauty of Alaska with spectacular views of the surrounding Chugach Mountains and the waters of Cook Inlet.  The city combines modern conveniences with the outdoor life, scenery and wildlife that Alaska is known for.  While in Anchorage, visitors can enjoy a guided city or hiking tour, a scenic or bear viewing flight, or a visit the Alaska Native Heritage Center or Anchorage Museum.
Anchorage serves as the central hub for the Park Connection Motorcoach operations.  The Park Connection offers a variety of schedules to meet visitors' transportation needs with two departures daily both north to Talkeetna and Denali Park, and south to Seward.  Cruise transfers to the Whittier cruise terminal are available on most days cruise ships are in port. 
The Park Connection morning departures leave from the Dena'ina Civic Center in downtown Anchorage between 6:30 AM and 7:00 AM.  The afternoon Park Connection trips depart from the Dena'ina Civic Center at 3:00 PM.  For guests arriving into Anchorage on The Park Connection, drop offs are at the Dena'ina Civic Center, as well as the Anchorage Airport. 
The Alaska Railroad offers daily transportation to and from Anchorage, north to Talkeetna, Denali and Fairbanks, or south to Whittier and Seward.  We recommend using a combination of bus and train service when making your vacation itinerary.  This allows you to see more of Alaska, and also takes advantage of the cost and time savings offered by the Park Connection bus line.
You can get additional information by viewing the individual trips listed at the bottom of this page, or by visiting our schedule and rates pages.
Need Help?
Though Anchorage is Alaska's transportation hub, it also offers a wonderful variety of tours and attractions.   If you need some advice on where to stay or what to do, we are happy to help. Remember, you can book your Park Connection Motorcoach AND your Alaska train trips using our unique online booking system.
Park Connection bus tours from Anchorage
Park Connection bus tours to Anchorage