Denali Park to Anchorage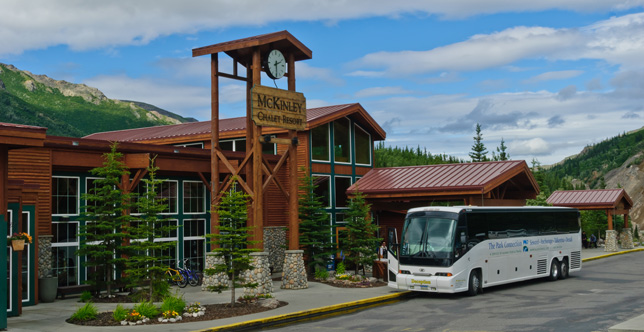 Bus Denali National Park to Anchorage
The motorcoach trip from Denali Park to Anchorage covers 240 miles, makes one stop in route, and takes about six hours.  The ride starts on the Parks Highway, passes by the town of Cantwell before reaching Broad Pass, elevation 2,409 feet.  Broad Pass offers some of the most beautiful scenery along this highway. The road continues through Denali State park which borders the highway between the Talkeetna Mountains and the Alaska Range.  The motorcoach will make a brief stop in Talkeetna before continuing on to Anchorage.  You will pass through the growing community of Wasilla, the largest town in the Matanuska-Susitna Valley whose claim to fame is being the home town of Sarah Palin, Vice-Presidential candidate in the 2008 election. Just past Wasilla, the bus turns South onto the Glenn Highway.  You will cross the Palmer Hay Flats, Knik River, and Eagle River during the last 35 miles of your journey before arriving in downtown Anchorage.
The Park Connection Motorcoach operates two trips daily between Denali and Anchorage, both of which make a brief stop in Talkeetna in route. The morning trip is called the "Park to Park" service since it connects Denali Park with Kenai Fjords National Park, departing from the Grande Denali, Denali Bluffs Hotel, McKinley Chalet, Denali Princess Lodge, Denali Park Village and Denali Cabins. Upon arrival in Anchorage, the motorcoach drops guests at the Dena'ina Civic Center and the airport.  This bus does continue onto Seward.
The afternoon departure follows our "Denali Express" route.  The bus trip leaves mid-afternoon and offers departures from the Grande Denali Lodge, Denali Railroad Depot, Denali Bluffs Hotel, Denali Princess Lodge, Denali Park Village, and the Denali Cabins.  This route is timed to connect with buses coming from the backcountry lodge out by Kantishna at the end of the Denali Park Road. The Park Connection motorcoach arrives in Anchorage in the evening and drops passengers off at the Dena'ina Civic Center and the airport.  You can choose which route works best for you and book it with our unique online booking system.
Denali to Anchorage Bus Tour Details (AM)
7:00 AM Grande Denali
7:15 AM Denali Bluffs
7:25 AM McKinley Chalet
7:30 AM Denali Princess Lodge
7:45 AM Denali Park Village
7:55 AM Denali Cabins
10:45 AM
11:00 AM
1:30 PM
Dena'ina Civic Center, Airport
Park to Park
May 14 to September 16, 2022
$100.00
$50.00
Denali to Anchorage Bus Tour Details (PM)
1:45 PM Grande Denali
2:00 PM Denali Bluffs
2:15 PM Denali Princess Lodge
2:30 PM Denali Train Depot
2:45 PM Denali Park Village
2:55 PM Denali Cabins
5:15 PM
5:45 PM
8:30 PM
Dena'ina Civic Center, Airport
Denali Express
June 4 to September 11, 2022
$100.00
$50.00