Park to Park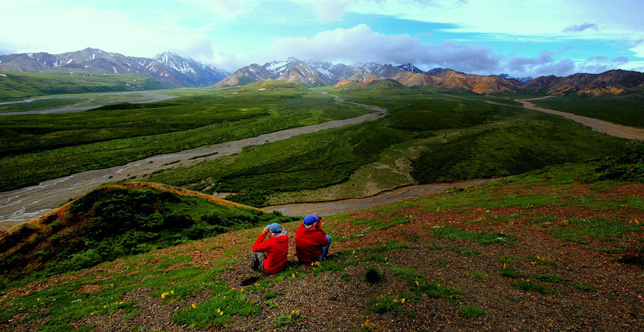 Park Connection Park to Park Route
The Park Connection Park to Park route is our traditional service from Denali Park to Seward, with at least one bus traveling in each direction, north and south, each day. In fact, this is where our name the "Park Connection" originates, from "connecting" Denali National Park with Kenai Fjords National Park near Seward. Passengers choose to ride as far as they like to any of the destinations on the route which include Seward, Anchorage, Talkeetna and Denali Park. Advance reservations are recommended.
One of the most popular and unique features of this route is the ability to travel between Denali Park or Talkeetna and Seward in the same day.  This is really a money and time saving feature, as traveling this route by train would take an extra day and require an additional overnight in Anchorage. In both directions there is a nice lunch stop on your own in Anchorage.
If you are traveling north of Anchorage your trip will include a brief stop at the Talkeetna Alaskan Lodge, located on the outskirts of the town of Talkeetna. Many of our passengers choose to spend a night here either before or after their stay to the north at Denali National Park. Staying in Talkeetna gives you a great perspective of the southern side of Mt. Denali and Denali National Park, and if your schedule allows we highly recommend one night in Talkeetna and two nights at Denali Park. Talkeetna offers one of the best scenic flightseeing opportunities in that state… you can even land on a glacier in the shadow of Mt. Denali. Of course, if you also need help with booking hotels and tours, we can help with that as well.
Our Park to Park route is very popular with travelers looking to combine a trip on the Alaska Railroad with a bus tour. In fact, our most popular vacation package offered through Alaska Tour & Travel does just that… consider the following sample itinerary. Fly into Anchorage and spend the night then take the train to Seward. Spend two nights in Seward and take a Kenai Fjords cruise before heading to Denali Park by Park Connection motorcoach. In route to Denali spend the night at the Talkeetna Alaskan Lodge, and take a scenic flight to Mt. Denali. Continue on to Denali by bus, spending two nights at Denali Park allowing time for a bus tour and some rafting, then head back to Anchorage by train. You have a great one week tour, and by combining bus and train you saved substantial time and money while taking in some additional scenery.  
The Park to Park schedule is shown below, and you can visit our full rates and schedules pages for additional details.
Park to Park Northbound (Seward to Denali)
May 14 - September 15, 2022 **
Departure Time
Arrival Time
Seward
10:20 AM
Anchorage
1:30 PM
Anchorage
3:00 PM
Talkeetna
5:30 PM
Talkeetna
5:45 PM
Denali Park
8:30 PM
Park to Park Southbound (Denali to Seward)
May 14 - September 15, 2022 **
Departure Time
Arrival Time
Denali Park
7:45 AM
Talkeetna
10:45 AM
Talkeetna
11:00 AM
Anchorage
1:30 PM
Anchorage
3:00 PM
Seward
5:45 PM
** Service from Seward to Anchorage to Talkeetna to Denali is also available 5/13/22.
** Service from Denali to Talkeetna to Anchorage is also available 9/16/22.