Talkeetna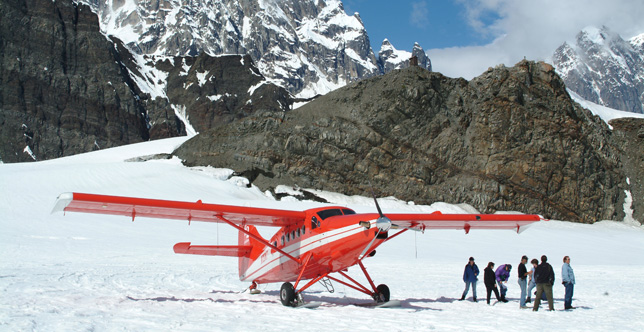 Talkeetna Alaska
The small town of Talkeetna is about two-and-a-half hours north of Anchorage by road and is home to just 300 year round residents.  This quaint, uniquely Alaskan town has several buildings on the National Register of Historic Places and offers panoramic views of the Alaska Range and Mt. Denali.  With many local artisans, a few rusty sourdoughs, and local adventurers, Talkeetna offers the small town character that visitors seek to experience in Alaska.
Known as a base camp for adventure, the summer population of Talkeetna swells with mountain climbers and tourists.  The town is the staging area for climbers attempting to climb 20,320 feet to the top of Mt. Denali.
Due to its proximity to Mt. Denali, Talkeetna offers visitors phenomenal flightseeing opportunities.  You can even take a flight that includes landing on a glacier.  The town sits at the confluence of three rivers and fishing also draws many visitors to Talkeetna.  You can also tour the rivers by jet-boat.
A one night stay before or after your trip to Denali allows you to explore the town and see the majesty of the Alaska Range from the air.  The Talkeetna Alaska Lodge is the largest hotel in the area but there are a few rustic lodges and bed and breakfasts as well.  The town also boasts several wonderful shops and galleries.
The Park Connection Motorcoach offers convenient morning and afternoon service connecting Talkeetna with Denali Park and Anchorage. On select trips you can even travel between Talkeetna and Seward or Whittier on the same day, a unique feature compared to other options such as the train. You can get additional information by viewing the individual trips listed at the bottom of this page, or by visiting our schedule and rates pages.
The Alaska Railroad also offers daily service in and out of Talkeetna. The Alaska Railroad provides transportation between Anchorage and Fairbanks with stops in Talkeetna and Denali. We recommend an Alaska vacation itinerary with both rail and motorcoach travel if possible.  This approach allows you to enjoy the train ride, but also allows you to save time, money and see the scenery along the railroad and the highways of Alaska.
Need Help?
Getting to or from Talkeetna is just the first step.  If you need some advice on where to stay or what to do, we are happy to help. Remember, you can book your Alaska railroad trips along with the Park Connection bus line using our unique online booking system.
Park Connection bus tours to Talkeetna
Park Connection bus tours from Talkeetna