Cruise Transfers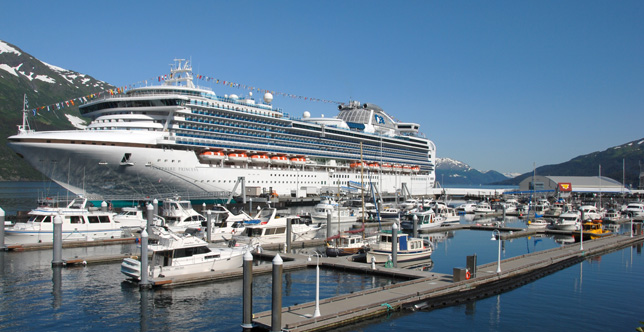 Alaska Cruise Transfers
Alaska is one of the most popular and exciting cruise destinations. Many of the major cruise lines offer 7-day Gulf of Alaska cruises that sail from Vancouver BC and arrive in either the port city of Whittier or Seward, Alaska. These small towns do not have commercial air service, so most cruise ship passengers fly in and out of Anchorage and shuttle to either Whittier or Seward.  Visitors have a number of transportation options to choose from for Alaska cruise transfers including the Park Connection, the rail and shuttles offered by the cruise line.  All of these options are available whether you are arriving or departing via an Alaska cruise.
Although it is possible to fly in to Anchorage on the day of your cruise and transfer to your port town, we recommend flying in at least one day early to allow for flight or luggage delays.  The best case scenario is that you arrive in Alaska four to five days before your cruise to explore Alaska by land.  There is so much more to Alaska than what you can see via a cruise ship!
Seward Cruise Transfers by Motorcoach
If you are traveling with Celebrity Cruises, Royal Caribbean Cruise Line, Norwegian Cruise Line and Regent Seven Seas Cruises you will sail from the port in Seward. The motor coach trip between Anchorage and Seward covers 125 miles and generally takes less than three hours. This transfer features fantastic Alaska scenery. The Park Connection offers twice daily transportation to Seward.  For guests traveling to a cruise ship, we recommend our afternoon departure from the Anchorage Museum.  This transfer will drop you off directly at the cruise ship dock.  If your vacation plans allow for more time in Alaska, the transfer to Seward is also available from Denali or Talkeetna.
Whittier Cruise Transfers by Motorcoach
Whittier is the "turnaround" port used by Princess Cruises and Holland America Cruise Line.  Whittier is just 60 miles from Anchorage but travel includes a 2.5 mile tunnel through the Chugach Mountains. The Whittier tunnel is a one way tunnel shared with the Alaska Railroad and offers designated openings in each direction so the cruise transfer time is about two hours.  The Park Connection operates the Whittier to Anchorage transfer only on days that ships are in town.  Accommodations in Whittier are very limited so if you plan to arrive in Alaska early we recommend spending a night or two in Anchorage, Talkeetna, or Denali prior to your cruise.  The Park Connection also features a unique transfer that allows you to travel from Denali or Talkeetna to Whittier on your cruise departure day.
Whether you are arriving in or departing from Alaska on the day of your cruise or enjoying a pre or post-cruise land tour, we have bus transportation options to suit your itinerary.  Be sure to visit our Seward Cruise Transfer and Whittier Cruise Transfer pages for more details.  We would be glad to help you plan a pre or post cruise Alaska land vacation or just help with booking a Seward or Anchorage hotel, click here for ways that we can help. Cruise transfers to Whittier and Seward are also available from Anchorage by train via the Alaska Railroad.  In fact, you can compare and book both motorcoach AND train options using our unique online reservations tool.