Seward Cruise Transfers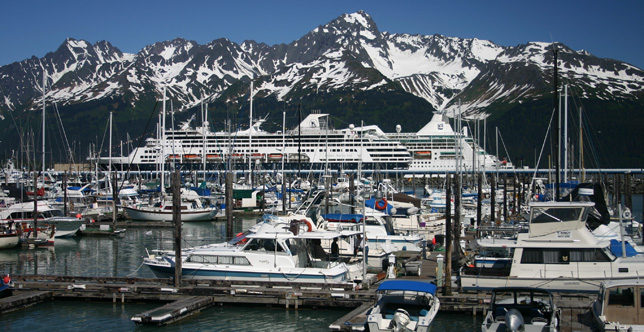 Seward Alaska Cruise Ship Transfers
Seward, Alaska sits at the head of Resurrection Bay and serves as the "turn around" port for the 7-day Gulf of Alaska cruises offered by Celebrity Cruises, Royal Caribbean Cruise Line, Norwegian Cruise Line and Regent Seven Seas Cruises.  The scenic town of Seward is about 125 road miles from Anchorage and the cruise transfer by motor coach takes about three hours.  The motorcoach travels on the beautiful Seward Highway, along the Turnagain Arm, through the Kenai Mountains and past the turquoise waters of Kenai Lake.
The Park Connection offers two scheduled motorcoach transfers between Seward and Anchorage daily throughout the summer. On cruise ship days, some of these transfers feature pick up and drop off directly at the cruise ship dock.  This motorcoach service can also be combined with transportation service to or from Denali Park and Talkeetna. This one day travel option between Seward and Denali allows you to make the most of limited time in Alaska, not to mention the cost savings of avoiding an unnecessary overnight stay in Anchorage.
For northbound cruise ship passengers traveling from Vancouver BC to Seward, the cruise transfer departs from the Seward Cruise Terminal at 9:45 AM and arrives in Anchorage at 12:30pm.  The motorcoach drops guests off at the Dena'ina Civic Center and then continues onto the airport. This transfer connects with motor coach service to Talkeetna and Denali.  If you would like to spend the day exploring Seward, we offer a second bus option that departs from the Small Boat Harbor early evening and arrives in Anchorage at about 9:30pm.  This shuttle drops guests off downtown at the Dena'ina Civic Center or the airport.
We recommend our afternoon Park Connection cruise transfer for guests boarding their cruise ship in Seward. This transportation service departs from the Dena'ina Civic Center at 3:00 PM and arrives at the Seward Cruise Terminal about 5:45pm.  This shuttle connects with the coaches arriving from Talkeetna and Denali in Anchorage.  We also offer a morning departure from Anchorage to Seward.  This arrives into Seward before 10am, too early for passengers to board the cruise ship.  If you take this morning trip to Seward, we recommend taking either a day cruise into Kenai Fjords National Park or the Ididaride tour which includes a trip to Exit Glacier, lunch at the Resurrection Roadhouse and a dogsled ride.
The Alaska Railroad transfer to Seward departs Anchorage early morning, takes four hours and arrives in Seward about 11am.  Again, a Seward day tour is recommended with this transfer.  Compare and book both motorcoach AND rail cruise transfer options on our unique online booking system.
Remember, we have other Seward options so check our full rates and schedules pages for additional details.
Seward Cruise Transfers
Designated Ship Days
Departure Time
Arrival Time
Seward
9:45 AM
Anchorage
12:30 PM
Anchorage
3:00 PM
Seward
5:45 PM