Seward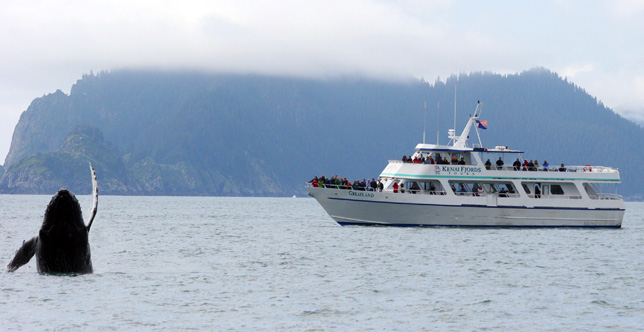 Seward Alaska
The small town of Seward is located 130 road miles south of Anchorage and is home to roughly 3000 residents. With its scenic location on the shores of Resurrection Bay, quaint shops, and a vast array of activities, the town is a "must see" destination for most Alaska summer visitors. Seward is an easy day trip from Anchorage, but really worth an overnight or two if your schedule allows.
Lodging options are plentiful, and range from bed & breakfasts, hotels and inns, to rustic lodges.
Seward is the gateway to the surrounding Kenai Fjords National Park. Day boat cruises to view glaciers and marine wildlife are popular, as are visits to the park by land at Exit Glacier. Other popular activities in Seward include kayaking, fishing and tours of the Alaska Sealife Center.  Seward hosts a festive Fourth of July celebration which includes the world famous Mt. Marathon race.
The Park Connection bus line operates two trips per day between Anchorage and Seward. Our "Seward Express" route departs Anchorage in the morning and returns to Anchorage from Seward in the evening, making it a great choice for day trips. Our traditional "Park to Park" service offers a Seward to Anchorage departure late morning and the reverse late afternoon. One of the unique features of this route is that you can travel all the way to Talkeetna or Denali National Park in the same day, or vice versa.
You can get additional information by viewing the individual trips listed at the bottom of this page, or by visiting our schedule and rates pages.
Several cruise lines use Seward as a "turn around" port for their 7 night Gulf of Alaska cruises from Vancouver. The Park Connection is a great option for cruise transfers in either direction between Anchorage and Seward. For more details, please visit this page.
The Alaska Railroad also offers service from Anchorage to Seward, departing early morning from Anchorage and returning from Seward to Anchorage in the evening. If you are traveling roundtrip between Anchorage and Seward we highly recommend traveling one direction by train and the other by bus. This approach allows you to enjoy the train ride, but also allows you to save time, money and see additional scenery on the bus.
Need Help?
Of course getting to or from Seward is just the beginning. If you need some advice on where to stay or what to do, we are happy to help. Remember, you can book your Alaska railroad trips AND the Park Connection Motorcoach using our unique online booking system.
Park Connection bus tours to Seward
Park Connection bus tours from Seward