Seward to Anchorage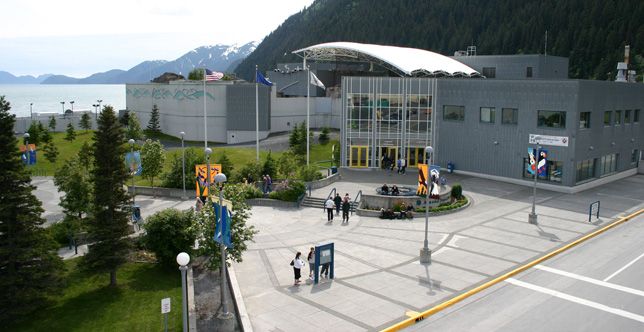 Bus Seward to Anchorage
The trip from Seward to Anchorage by motorcoach travels nearly 130 miles along a designated National Scenic Byway, and generally takes just under 3 hours by motorcoach. As you depart Seward you will climb into the Kenai Mountains, traveling through the Chugach National Forest, alongside Kenai Lake and past the community of Moose Pass. Later on your bus ride, you will descend back towards sea level and hug the scenic coastline of the Turnagain Arm as you travel past Portage station and Girdwood in route to Anchorage. The Turnagain Arm features the highest tidal range in the United States with a mean tide of 30 feet, and also offers the chance to view a unique phenomenon known as a "bore tide". Dall sheep and bald eagles can often be seen along this rocky coastline, along with the occasional beluga whale and other wildlife.
The Park Connection bus line operates two trips each day during the summer between Seward and Anchorage. The first departure is part of our "Park to Park" route and leaves late morning from the Seward Small Boat Harbor, Gateway Hotel, and the Windsong Lodge. On select cruise ships days we also offer a special departure directly from the cruise ship dock. Upon arrival in Anchorage the coach will drop off passengers first the Dena'ina Civic Center downtown, then at the Anchorage Airport. One unique feature of this trip is that you can also continue on, after a lunch stop on your own, to Talkeetna or even Denali Park.
Our second trip departs Seward early evening, again from either the Small Boat Harbor, Gateway Hotel, or the Seward Windsong Lodge. In Anchorage, we drop off at either the Dena'ina Civic Center downtown or the Airport. This trip is part of our "Seward Express" route and is specifically timed to connect with passengers returning on day cruises from Kenai Fjords National Park. One popular day trip from Anchorage is to take the train down, cruise Kenai Fjords, then return in the evening by bus. You can easily reverse this itinerary, and the nice thing is that you can compare and book both the rail and the coach at the same time with our unique online booking system.
Seward to Anchorage Bus Tour Details (AM)
10:20 AM Gateway Hotel
10:30 AM Small Boat Harbor
10:45 AM Seward Windsong Lodge
1:30 PM (approximate)
Museum (downtown), Airport
Park to Park
May 13 to September 15, 2022
$70.00
$35.00
Seward to Anchorage Bus Tour Details (PM)
6:20 PM Gateway Hotel
6:30 PM Small Boat Harbor
6:45 PM Seward Windsong Lodge
9:30 PM (approximate)
Dena'ina Civic Center (downtown), Airport
Seward Express
May 13 to September 16, 2022
$70.00
$35.00

Schedule, Rates, Faqs, Book Now