Anchorage to Denali Park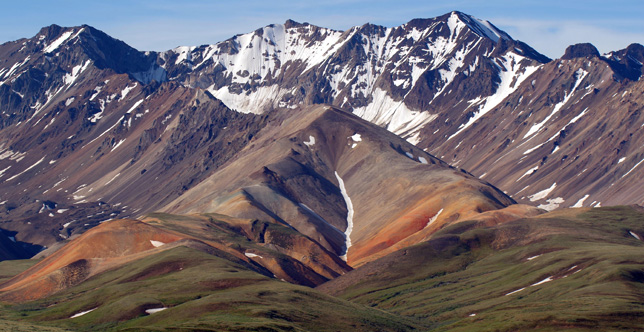 Bus Anchorage to Denali National Park
Denali National Park is a "must-see" destination for many visitors to Alaska.  The motorcoach trip from Anchorage to Denali Park covers about 240 miles and takes about five and a half hours.  You depart Anchorage on the Glenn Highway, the only road north out of Anchorage.  After passing through the Palmer Hay flats the motorcoach will turn onto the Parks Highway.  This highway was originally called the Anchorage-Fairbanks highway.  Once you pass the town of Wasilla, the highway will narrow to two lanes and traffic will lighten.  If the weather is clear, watch for views of Mt. Denali and the Alaska Range.  The motorcoach will make a brief stop in Talkeetna then continue on to Denali.  The route takes you past the Susitna River, over the Hurricane Gulch Bridge before passing through Broad Pass, elevation 2,409 feet.  Broad Pass is one of the most scenic areas along the Parks Highway.  Watch for moose and caribou.  The motorcoach will continue past the small town of Cantwell before arriving in Denali.
The Park Connection Motorcoach operates two trips daily between Anchorage and Denali, each making a short stop along the way in Talkeetna. The morning departure departs from the Dena'ina Civic Center in the downtown area.  This departure is the "Denali Express" route and is timed to connect with the buses that go to the backcountry lodges near Kantisha at the end of the Denali Park road. The motorcoach drops guests at the Denali Cabins, Denali Park Village, rail depot, Denali Princess Lodge, Grande Denali Lodge, and the Denali Bluffs hotel.
The afternoon departure is part of our "Park to Park" route and leaves from the Dena'ina Civic Center at 3:00pm. This trip also features a stop in route at the Talkeetna Alaskan Lodge.  This route offers an evening arrival into Denali and drops off at the Denali Cabins, Denali Park Village, the Grande Denali Lodge, Denali Princess Lodge and the Denali Bluffs.  You can choose which route works best for you and book it with our unique online booking system.
Anchorage to Denali Bus Tour Details (AM)
6:30 AM Dena'ina Civic Center
8:45 AM
9:15 AM
12:30 PM
Denali Cabins, Village, Train Depot, Princess, Bluffs, Grande, Chalet
Denali Express
June 5 to August 31, 2023
$105.00
$52.50
Anchorage to Denali Bus Tour Details (PM)
3:00 PM Dena'ina Civic Center
5:30 PM Talkeetna Alaskan Lodge
5:45 PM Talkeetna Alaskan Lodge
8:30 PM
Denali Cabins, Village, Grande, Princess, Bluffs, Chalets
Park to Park
May 15 to September 15, 2023
$105.00
$52.50


Schedule, Rates, Faqs, Book Now