Denali Park to Talkeetna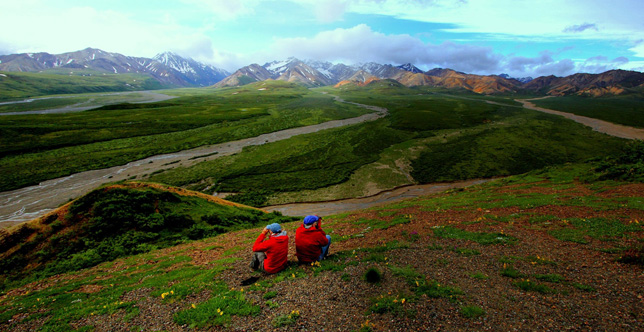 Bus Denali National Park to Talkeetna
The motorcoach trip from Denali Park to Talkeetna travels south on the Parks Highway. The highlight of this trip is the beautiful scenery through Broad Pass, a wide mountain valley that marks a drainage divide - rivers north of the pass empty in the Yukon River, and south of the Pass rivers flow to the Cook Inlet.  The highway continues over Hurricane Gulch and past the Alaska Veterans Memorial.  Watch for views of Mt. Denali and wildlife - caribou and moose can often be spotted on this trip. 
The Park Connection bus line operates two trips daily between Denali and Talkeetna, both of which drop off passengers at the Talkeetna Alaskan Lodge. The morning trip is part of our "Park to Park" service, and will get you to Talkeetna mid-morning leaving the remainder of the day to explore downtown or take a flightseeing tour over Mt. Denali. The "Denali Express" motorcoach leaves Denali Park mid-afternoon for Talkeetna, and is timed to connect with coaches arriving from the Denali Park backcountry lodges near Kantishna.
You can choose which route works best for you and book it online by following this link. We can also help with Talkeetna hotels or tours.
Denali Park to Talkeetna Bus Tour Details (AM)
7:00 AM Grande Denali
7:15 AM Denali Bluffs
7:25 AM McKinley Chalet
7:30 AM Denali Princess Lodge
7:45 AM Denali Park Village
7:55 AM Denali Cabins
10:45 AM
Talkeetna Alaskan Lodge
Park to Park
May 14 to September 16, 2022
$70.00
$35.00
Denali Park to Talkeetna Bus Tour Details (PM)
1:45 PM Grande Denali
2:00 PM Denali Bluffs
2:15 PM Denali Princess Lodge
2:30 PM Denali Train Depot
2:45 PM Denali Park Village
2:55 PM Denali Cabins
5:15 PM
Talkeetna Alaskan Lodge, Downtown Talkeetna Mahay's
Denali Express
June 4 to September 11, 2022
$70.00
$35.00