Talkeetna to Anchorage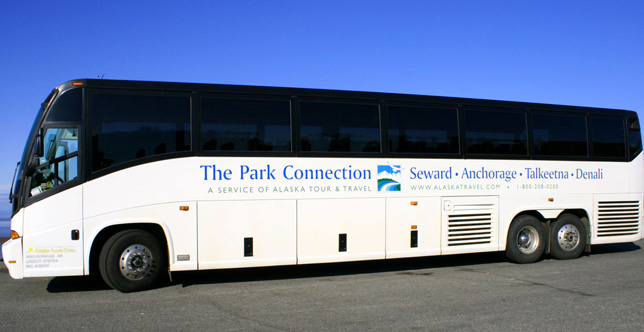 Bus Talkeetna to Anchorage
The Park Connection bus line travels south on the Parks Highway for the trip between the Talkeetna and Anchorage. The road passes through popular local recreation areas at Montana Creek, Deshka River Landing and Big Lake. The Parks Highway continues through the town of Wasilla before merging onto the Glenn Highway. Look for the majestic Pioneer Peak, a prominent feature in the Chugach Mountains to your left as you turn onto the Glenn. Watch for moose as you cross over the Palmer Hay Flats. The road continues past the small Athabaskan village of Eklutna and the growing community of Eagle River. The Glenn Highway leads right into downtown Anchorage.
The Park Connection Motorcoach operates two trips daily between the Talkeetna and Anchorage, with both departures from the Talkeetna Alaskan Lodge. The morning trip is part of our "Park to Park" route that originates in Denali Park. Upon arrival in Anchorage the motorcoach drops passengers off at the Dena'ina Civic Center and the airport. The afternoon departure is part of the "Denali Express" route, and also drops off passengers in Anchorage at either the Dena'ina Civic Center in downtown Anchorage or the airport. Both trips travel about 112 miles and take about 2.5 hours.
You can choose which route works best for you and book online using our unique online booking system. If you need help with hotel or tour reservations in Talkeetna, we can help.
Talkeetna to Anchorage Bus Tour Details (AM)
11:00 AM Talkeetna Alaskan Lodge
1:30 PM
Dena'ina Civic Center, Airport
Park to Park
May 14 to September 16, 2022
$70.00
$35.00
Talkeetna to Anchorage Bus Tour Details (PM)
5:30 PM Mahay's Jet Boat Office Downtown
5:45 PM Talkeetna Alaskan Lodge
8:30 PM
Dena'ina Civic Center, Airport
Denali Express
June 4 to September 11, 2022
$70
$35